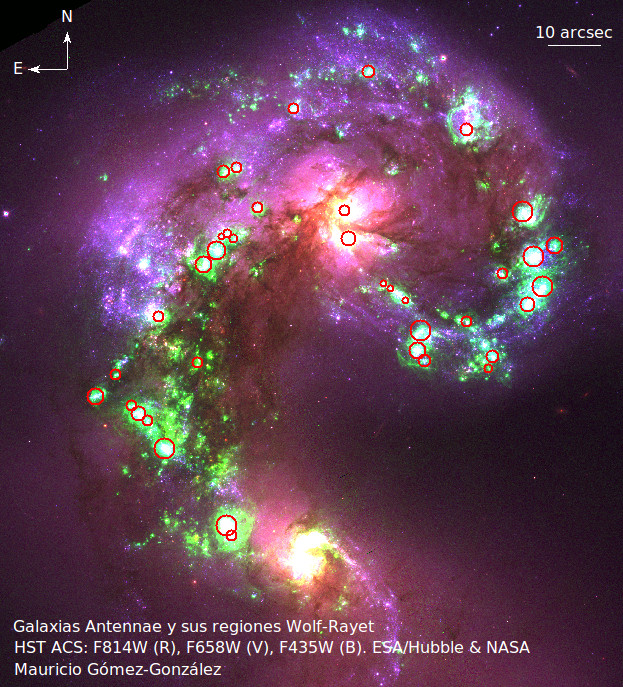 Antennae galaxy pair, NGC 4038/39, as observed by the Hubble Space Telescope. The star formation regions where the "signature" of Wolf-Rayet stars was found are indicated with circles. Credits: Mauricio Gómez-González, ESA / Hubble, NASA.
A group of astronomers led by Dr. Mauricio Gómez-González from the Institute for Radioastronomy and Astrophysics (IRyA) at UNAM Campus Morelia, Mexico, has found an estimated population of around 4000 Wolf-Rayet stars (WR) in the colliding pair of galaxies known as the Antennae, or NGC 4038/39.
"I am very happy with this work in which we studied the final stages of the most massive stars, the Wolf-Rayet stars, in one of the most iconic pairs of galaxies in the process of merging in astronomy", mentioned Dr. Mauricio Gómez-González in an interview. "I have learned a lot and enjoyed every step of this work. It has been quite satisfying and it was a pleasure to work with astronomers whose work I admire", commented Dr. Gómez-González about his colleagues in this work.
WR stars are huge stars of at least about 25 times the mass of the Sun that have evolved and shed out their exterior layers of hydrogen, revealing other elements in their interior. By separating the light of these very hot stars in their colors or wavelengths, thus obtaining a spectrum, it can be seen that in some of them the "signature" of nitrogen dominates, while in others carbon dominates, so in general it is considered that some WR stars are nitrogen rich and others are carbon rich.
Very massive stars like WR live "short" lives of about between 2 and 4 million years, and their WR phase lasts approximately 10% of this time. So they are difficult to find and it is more probable to observe them in large star formation bursts like those occurring in the Antennae, two merging galaxies at a distance of about 60 million light-years from our Solar System.
Most galaxies are so far away that it is currently impossible to distinguish individual stars in them. To find extragalactic WR stars, i.e. those outside our own Galaxy, Dr. Mauricio Gómez-González and his team looked for the signature of WR stars in star formation regions in this galaxy pair. They found 38 such regions with sizes up to 1000 light-years.
Then they used spectra of individual WR stars in our Galaxy to model how the spectra of these regions should look like if they had different amounts of WR stars in them, along with other types of young stars, and thus infer how many WR stars of each type exist in each region. They estimated that there are very similar numbers of nitrogen-rich and carbon-rich WR stars in this galaxy pair.
"The ratio of these two types of WR stars is an important observational parameter to distinguish between different theoretical evolutionary models of these stars", commented Dr. Mauricio Gómez-González. "With this work we have significantly increased the number of extragalactic WR stars in the local Universe, which are progenitors of other interesting astrophysical phenomena such as certain types of Supernovae and Gamma Ray Bursts. I am very curious about the Wolf-Rayet phenomenon in the Universe, and I hope to continue to do more studies on these fascinating stars", he concluded.
This work has been recently published in the Monthly Notices of the Royal Astronomical Society, and it is available through a subscription in this link, or in a free preprint version in this link, and it was supported by the Programa de becas posdoctorales de la UNAM (DGAPA). Divakara Mayya of the Instituto Nacional de Astrofísica, Óptica y Electrónica (INAOE, Mexico), Jesús Toalá y Jane Arthur of IRyA, Javier Zaragoza-Cardiel of INAOE / CONACyT (Mexico), and Martín Guerrero of the Instituto de Astrofísica de Andalucía (Spain), are coauthors of this work.
Dr. Mauricio Gómez-González Career
Dr. Mauricio Gómez-González is an alumnus of the Universidad de Guadalajara (Mexico). He obtained his Masters and PhD in Astrophysics from the Instituto Nacional de Astrofísica, Óptica y Electrónica (INAOE, Mexico), and currently is a postdoctoral researcher at IRyA, UNAM Campus Morelia (Mexico). He is interested in studying massive evolved stars such as Wolf-Rayet in local-universe galaxies, and he is part of the Evolved Stars working group at IRyA.
---
Press releases:
[Respuesta] Astrónomo del IRyA de la UNAM Campus Morelia lidera grupo que ha encontrado más de 4 mil estrellas
[UNAM Global] Encuentran más de 4000 estrellas "Wolf-Rayet" en las galaxias en colisión "Las Antenas"
[Cienciario] Localizan más de 4 mil estrellas en galaxias en colisión
[Atiempo] Encuentran más de 4000 estrellas "Wolf-Rayet" en las galaxias en colisión "Las Antenas"
[UNAM Morelia] Encuentran más de 4000 estrellas "Wolf-Rayet" en las galaxias en colisión "Las Antenas"
Scientific paper:
Wolf–Rayet stars in the Antennae unveiled by MUSE
V M A Gómez-González, Y D Mayya, J A Toalá, S J Arthur, J Zaragoza-Cardiel, M A Guerrero
Monthly Notices of the Royal Astronomical Society, 500, 2076
Project contact:
Dr. Mauricio Gómez-González
IRyA UNAM Campus Morelia
This email address is being protected from spambots. You need JavaScript enabled to view it.
Media contact:
Dr. René A. Ortega Minakata
Outreach and Science Communication
IRyA UNAM Campus Morelia
This email address is being protected from spambots. You need JavaScript enabled to view it., This email address is being protected from spambots. You need JavaScript enabled to view it.